Rainbow Bridge
Click a letter to find an animal or
view all
.
Celebrate My Life
by Karon Stewart, ERU

How do I tell you, where do I start?
These feelings inside me, deep in my heart.
I thought I had lost love, then you came along;
Everything was better...nothing could go wrong.

The feelings of tenderness I hadn't known before;
You wanted to keep me, but God wanted me more.
I look to your eyes, the ones that are kind
To tell you it's okay, I know it's my time.

For with your love, I was so blessed;
So celebrate my life, don't dwell upon my death.
Until we meet at the Bridge -- Oh, please don't cry.
It's just for now, my friend, that I must say goodbye.

FOR THESE RESCUES, THEIR MEMORY WILL LIVE ON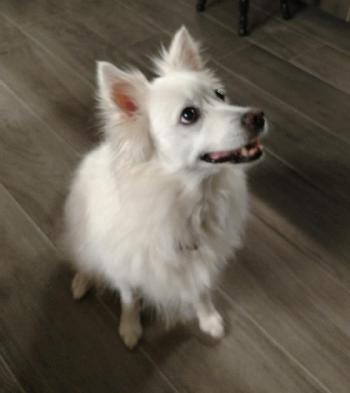 China
One of my favorite foster dogs China passed today. China and her sister India were older dogs and came to us in terrible shape from being flea ridden and kept in cages in a hot garage and barely fed. We nurtured them back to health over several months and adopted them out. Kathleen and AJ who were looking for one dog but after seeing them together took them both. They gave China a great life and still loving India. We are grateful for them for the love they gave China and for telling us the news. RIP China…….Glen Ritter, August 29, 2022
Ben
It is with great sadness that I have to tell you Ben of Florida passed away yesterday. We adopted our sweet loving boy on August 1st 2010. Last week we noticed he started drinking more water than usual. We took him to our Vet first thing Friday. They did a few tests and his blood work showed some really bad signs. They then sent us to a higher level animal hospital that morning that was better equipped to diagnose his issues. Large masses of cancer were found in his spleen, liver, pancreas and kidney. His red blood cell count was so low that he even had internal bleeding. The week before, Ben was still going on his mile a day walks. He loved walking the neighborhood. Everything happened so fast. We are devastated. We had scheduled laps of love(a Tampa Hospice service) to come to the house Sunday Morning. He passed before they arrived. We were all there loving on him right to the end. His Eskie sister was by his side too. He rescued me. I miss him so much. I cant wait to see him at the rainbow bridge………Mike Komar, February 7, 2022
Basil
More sadness. Basil came to us from ERU in the summer of 2019. He was a senior eskie then and apparently had lived in several different areas of the country. He wasn't being adopted. We took over fostering him after meeting up halfway with Arlene Young. Before we adopted him, he was taken care of by ERU for a protruding rectal lesion. I drove him to the other side of FL for his surgery and brought him home afterwards. This lesion was to be his final undoing as it sadly returned and he was having difficulty defecating, especially trying to stand up on his arthritic legs. The vet said it was his time. We helped him pass peacefully and I stayed with him until he was gone. This is a photo of him when we first fostered him. Arlene's mother made this comforter for him and he slept on it every day!…..Lori Conway, November 5, 2021
Snowy
It is with great sadness that we had to say good bye to our ERU foster failure, Snowy. When he first came to us, he was known as Noah. At ERU's request, we pulled Snowy from the Hillsborough Pet Resources Center in late December 2017. He was an owner surrender and completely shut-down in the shelter. He was supposed to with us for only one night. After three adoption failures and another foster failure, we decided to adopt him in mid-2019. Although cute as a button, he had a bad habit of biting especially when fussing with his neck. He had never been taught by his owner or mom how to growl or even put his ears back to express his displeasure. Overall, he wasn't a bad boy and could be affectionate. As he grew older, he lost most of his sight and hearing. Additionally, he had suffered from a non-cancerous tumor on his colon which resulted in a complete bowel resection in early 2020. His recovery was very slow. The bowel obstruction also started to return and doggie dementia was making its ugly appearance. Even with those personality traits, we loved him. His dad, Tom, pampered him, walked him every 2 or 3 hours, cleaned up after him (oh, how many piddle pads) and was his best buddy. He dispensed treats freely while I was the lunch and dinner fixer, chief groomer. But finally, as he neared his 16th birthday, it was clear he was tired. So with tears streaming down our cheeks and the help of Lap of Love, he went over the bridge sleeping on his favorite blue bathrobe. We are comforting ourselves with the thought that we gave Snowy his life for four more years because he was due to be euthanized for bad behavior in the shelter. And they were great years filled with love, treats and an occasional bite out of us.……Mary Mahoney and Tom McGuigan, November 2, 2021
Click a letter to find an animal or
view all
.
Connect With Us