Animal Success Stories
ESKIE HAPPY TAILS
Here are just a few of our many "Happy Tails". Click the NAME or PHOTO of the Eskie to read more about their new life.
Click a letter to find an animal or
view all
.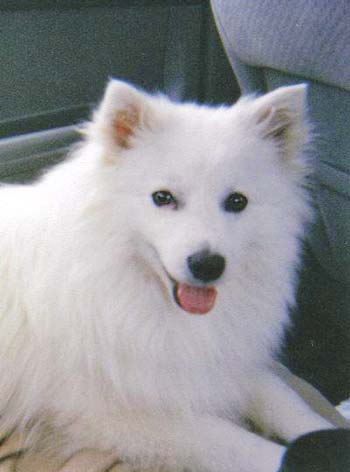 Sammy
Sammy the Eskie is now living the "life of Reilly" in a community for seniors and the disabled in Williamsburg, VA. Not only is he dearly loved by his 'Mom' but the entire community has embraced him.
Sammy has gone from being a stray on the cold, winter streets to hitching rides in scooters! His Mom describes how much Sammy means to her, "I don't know what I ever did without him. He is so precious and loving, a real gift."
Click his picture or link to read about Sammy and his story as told by his loving adopter, Nola.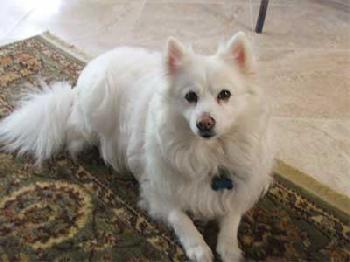 Anook
Anook was originally named Shamu and was on her last day at a Ft. Worth shelter. ERU was called and Shamu was picked up and driven to the Shreveport-Bossier area. Shamu was renamed Anook by her foster, Karon, which was an Eskimo derivative of the word "snowflake". Anook was a true Southern Belle but her age (9 or 10 yrs old) had taken a toll on her hearing. She was determined to be about 90% deaf.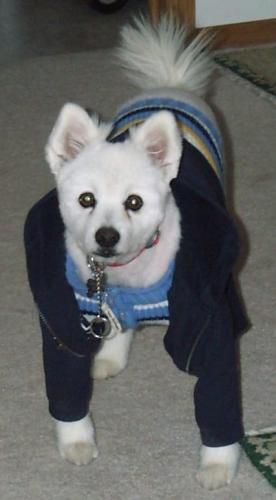 Timber
Timber was an 11 yr old male who was kept outside because he "marked" when inside.
His owners had him since he was a puppy but gave him up because they were moving to a house without a fenced yard. Timber was rescued by foster, Deborah, the WEEK BEFORE CHRISTMAS!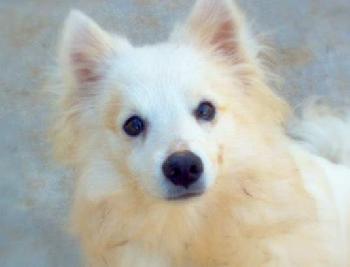 Gio
Get your hip-hop shoes on and celebrate with Lil G from Georgia... our rappin'-hippin'- hoppin' Eskie has a new crib y'all !!! His adopters were so excited to get him, they came all the way up from Florida. That's quite a hop from Gio's sad beginnings. Read all about his story -- he jammed it together in a rap song.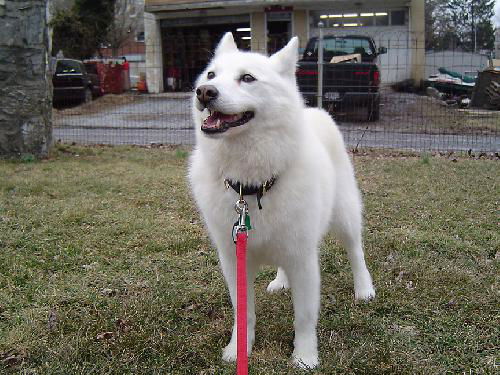 Carrie
Carrie was first thought to be a 13 year old eskie mix. Well it turned out that she was actually 3. Her earlier life was that of an outdoor dog, but she found a new home that will let her go wherever she wants inside the house, and she can go outdoors whenever she wants through a doggie door and a fenced in yard. Carrie, though shy at first, charmed everyone she met.
Click a letter to find an animal or
view all
.